Mio here to give you the run-down of a cat product I've discovered that is truly the cat's meow! 
Unlike my sister Melody who spends all her time on Amazon, I actually like to shop around and try new things. Speaking of which, Melody, Meowmy's looking for her credit card again. Do you happen to know where it is?
SeaFlex Joint Function a purrfect joint supplement for cats!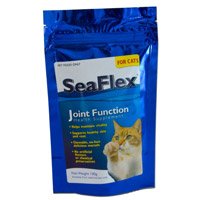 Seaflex Joint Function 100gm 1 Pack
Benefits of SeaFlex Joint Function For Cats
I may be a young cat, but I like to jump and climb. My sister is quite happy with spending her time on the floor and furniture. I on the other hand prefer to look down upon my domain and everyone in it.
Because I'm always jumping and climbing my joints get worn down quickly.
Meowmy once told me about an older kitty who was like me who became very grumpy because of arthritis in her joints. She couldn't stand being touched by anyone. Maybe she should have had some SeaFlex Joint Function to prevent all that pain.
I love being touched, it makes me drool, and I never want to be like that kitty. I want to enjoy all the strokes and scratches I can get forever and ever.
How to use SeaFlex joint supplement
Consult with your vet before giving SeaFlex Joint Function or any supplement to your cat. Especially if they are pregnant or breeding. Monitor your cats when providing them with any new treats.
Whatever you do always provide food and water to avoid indigestion.
It is recommended that cats weighing between 8-13 lbs receive 6 treats daily or if suggested by a veterinarian, however many they suggest.
With the flavor of chicken and a hint of fish I will gladly eat this up anytime they're offered. However, if you have a picky eater, like my sister, you can mix these supplements with your cat's food.
For us cats only! Keep this item away from pets and children. Store in a cool dry place.
Discontinue giving these supplements to your cat if lameness and pain continue, as this could be a sign that you need to take your cat to the vet.
Product Description and Features
SeaFlex joint supplement is great for the prevention of joint problems in cats as wall as additional help to cats who already have joint problems
Cats crave the chewy texture!
This product will not cause any nasty side-effects on catsts.
With natural, human-grade ingredient such as fresh chicken and Australian poultry meals, fish meal, flaxseed and shrimp, your cat will beg for these treats.
Gets your cats moving and feeling like kittens.
Heart healthy formula will have your fur baby purring all day long.
Greta preventative supplement ofr younger cats.
See a boost in your older cats mobility within ten days. 
Can make your cats coat healthier and shinier.
Active ingredients are Sea Chondroitin®* 270mg and Glucosamine HCL 75mg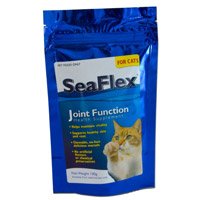 Ingredients
Sea Chondroitin®* 270mg
Glucosamine HCL 75mg
Fresh chicken and Australian poultry meals,
Fishmeal
Whole grains and rice,
Soy flour,
Shrimp,
Honey,
Kelp (for iodone) and
Flax seed (for Omega 3 Fatty Acids)
For cats who need a little something for their joints
While this SeaFlex Joint Function is great for older cats who get a little slower over the years, this product is good for us younger cats as well. This supplement is a great preventative for joint pain and inflammation, allowing me to spend all my years jumping and climbing.
If I do get injured during one of my many adventures this supplement also helps with recovery. It speeds up the healing of damaged joints. It also improves cartilage functioning.
I do not recommend this product to people with cats who have advanced joint problems as these are conditions that need to be treated by a vet. A supplement alone will not prevent already damaged joints from getting worse.
What I like about SeaFlex Joint Function
I like that this SeaFlex Joint Function prevents me from being in pain, allowing me to be constantly active. More chances to run under Meowmy's feet!
I also like that it aids in healing from injuries and makes me feel stronger. The best part is it gives my fur a beautiful shine while being tasty and easy to chew!
The ingredients are top quality and they make me feel safe knowing my joints are protected.
What I don't like about Sea Flex Joint function
Not all cats will like this product. My sister, Melody turned her nose up at them immediately. While I'm young and these work great for me, they likely wouldn't work very well for a cat with severe arthritis and joint problems. Once those joints have become completely worn down, you should be talking to your vet to know what treatments are best for your cat.
I also do not like that these are not grain-free. If you have a cat that is sensitive to grain is would be best to try something else for your cat's joints.
Helping cat's stay active
These yummy, chewy treats are great for older cats needing a little extra help with their joints. They're also a great preventative for younger cats wanting to avoid aches and pains in their later years.
They are not good for cats with advanced joint problems or those with grain sensitivities. These treats are purely supplemental.
If you notice your kitty slowing down, try out SeaFlex Joint Function .
Do you have any questions about SeaFlex Joint Function? Have you tried this product with your cat? Leave your comments below